Don't Miss-Out Subscribe!
Sign Up Here To Get the latest Software Testing Tips, Techniques, and Updates Directly to Your Inbox For Free of Cost.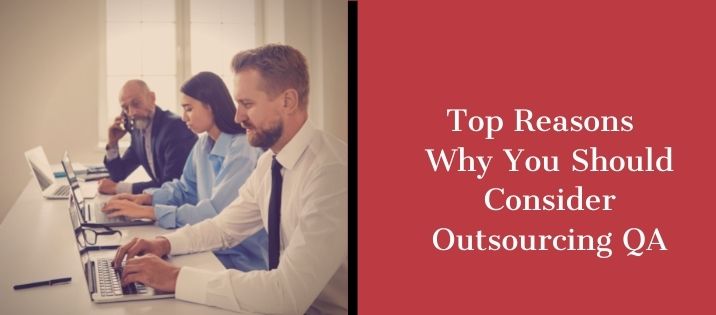 Top 5 Reasons Why You Should Consider Outsourcing QA
Outsourcing occurs when work is delegated to an independent vendor/supplier/company rather than being undertaken by the internal steering committee. Software testing, or QA, is however one segment where many enterprises prefer to outsourcing QA.
Collaborative launches, company digital economy, and other factors have increased reliance on software for both internal and external tasks. As a result, software testing has become a bigger part of the SDLC (Software development lifecycle). This procedure drives up testing costs, as well as spending on testing equipment, unit testing, and the requisite skill sets to deploy them – all of which are driving up demand for software testing outsourcing.
It's difficult to envision today's IT world without outsourcing QA. Engineers from all around the world work with SMEs to help them operate their supply chain as efficiently as possible. 
"Software testers do not make software's, they only make it better"
The following article will aid you grasp the primary advantages of working with software testing outsourcing companies.
Reduced cost: –
Recruiting a new tester to join your internal team will be a time-consuming and expensive endeavour. Hiring talented and experienced testers, training them, and then integrating them into your present team takes a lot of energy and time, and of course a hole in your pocket!
Rather investing so much time and resource into the entire hiring process, it is preferable to outsource the testing to a panel of professionals that are eager to get started. Conventional software testing might cost up to 30-40% of an application's total cost. Outsourcing automated QA testing can assist in reducing that figure by 4X to 5X, as automation testing can significantly increase software quality at the same expense, as well as receive extra ROI through earlier problem identification and correction.
Better quality: –
From a delivery standpoint, top – quality testing is frequently overlooked in favour of development. As a result, testing activities are frequently pushed to execution, compromising quality. When you outsource it to a supplier, however, he assures that all end-to-end testing is committed to providing high standard. As a result, a more thoroughly tested and reasonably high product would be ready for deployment.
Knowledge pool: –
End-user behaviours can cause errors, which independent and highly-professional QA specialists can foresee, find, and repair. Another added advantage is having access to large libraries of authentic devices, a personal testing platforms and cloud infrastructures in place which will help you modify your solution to meet your goals. Businesses can choose from the best software testing companies in the world, analyse their prepared projects in a variety of industries, and use the services stated above.
Management effort is reduced
Your management chores are minimised when testing is outsourced to a provider. There's no urgency to keep track of testing operations, check on execution progress, or schedule a defect assessment meeting. All of these things can be handled by the seller as your work and time could be better spent on other ongoing projects that are more important and aid in the delivery of a superior product.
New perspective/window: –
Every product in development is a work-in-progress. And when it comes to quality, there are no limits to what may be enhanced. It's challenging for people to uncover flaws in a programme that they have written from scratch. Another group of specialists will be able to inspect every aspect and assess all potential underlying hooks objectively and independently. As a result, entrusting this concept to highly experienced and skilled QA specialists or QA testing companies will provide you with useful knowledge and insight and a fresh perspective on product flaws, probable hazards, and capabilities without any personal prejudice.
Summary: –
Product development can be made more budget friendly and deliveries can be accelerated with the help of (QA) quality assurance outsourcing businesses. And, given the rapid pace of technological innovation, it is extremely significant or else a corporation risks ending the manufacturing stage untimely, the market will no longer require a freshly launched product. So, if you're thinking about outsourcing any QA jobs, contact us and Hire QA Tester.
Are you in need of Software QA Testing? Discuss Here
Get in touch with us today to know more and avail of our quality testing services. Get your application free from bugs and errors. Fill out the form mentioned below, and we will reach out to you with a free price quote right away.
Don't Miss-Out Subscribe!
Sign Up Here To Get the latest Software Testing Tips, Techniques, and Updates Directly to Your Inbox For Free of Cost.