Don't Miss-Out Subscribe!
Sign Up Here To Get the latest Software Testing Tips, Techniques, and Updates Directly to Your Inbox For Free of Cost.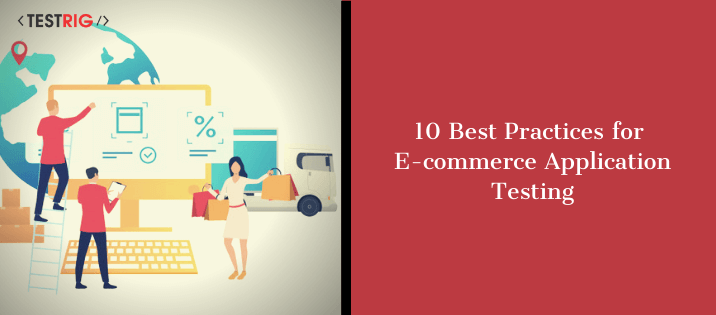 Best Practices: How to Test E-commerce application Manually
The eCommerce application testing is a bit complex process as there is a lot to look after in it. But it is equally essential as it determines whether the application will perform the functions as per expectations.
What is  E-commerce Application Testing?
Moreover, the eCommerce application testing allows you to derive reliable performance, capacity utilization, and optimum quality of the application. eCommerce web and mobile application testing process allows us to verify application functionality with no errors and bugs in performance or in security.
Best Practices to Learn How to Test E-commerce application Manually
In this article, you will know about some of the best practices for eCommerce application testing that are apply by the Top Software QA testing companies, So you can easily learn How to Test E-commerce application Manually with some simple practices.
1. Application Homepage Display Testing
Most of the users put the focus on the home page contents on priority to see what are the favorable deals available. Testing is required to refine the homepage features for ensuring better conversions. One such aspect that the testers need to check is non-automated sliding carousels. Automated sliders are not that effective as consumers must be given enough time to check on the hot-deals over the platform. Similarly, many other such home page loopholes can be rectified right away.
2. Enhanced User Experience
The eCommerce business owners need to make sure that their online applications must give better user experience to the consumers. Therefore, there is a separate UI/UX testing done on the eCommerce application to ensure that all the user experience aspects such as navigation, responsiveness, font size, and other attributes are perfectly embedded.
3. Functionality Testing Of Application
Some of the common attributes essential for testing on the functionality of the eCommerce application are home page, product page, offer page, category sections, product description page, shopping cart, etc. The seamless functionality of all these sections over an application determines streamlined functionality. The testers need to implement ideal measures for the same.
4. Application Workflow Testing
The eCommerce application testers need to check on some important elements of the application to make sure that the workflow remains streamlined. The workflow testing process includes testing search functionality, check out process, filter section, product review area, etc.
5. Payment Gateway Operation Testing
The testers need to go ahead with multiple testing solutions to ensure that the payment gateway is secure for transactions and checkouts. The tests will include a check on pricing details, acceptance of payment methods, invoice generation, and refund/replacement processes.
Important Read: Sample Case Study for E-Commerce Website Testing
6. Security Testing
The eCommerce applications store sensitive data about the consumers, such as banking data, contact details, etc. Therefore, the security testing aspects are highly essential to ensure that no hacker or malware can trigger data breach on the eCommerce applications.
7. Responsiveness Testing
The eCommerce applications must have a highly responsive loading time for enhancing the user experience. The testers will take up the application for responsive design testing to ensure whether the application is ideally responsive for mobile access or not.
8. Feature Testing
The feature testing of eCommerce application is done to check on the proper functionality of all the key features of the applications, including payment module, category page, log-in forms, shopping cart, the home page, search button, and others.
9. Database Testing
Some of the common database testings attribute essential for eCommerce mobile applications are database performance, database synchronization, functionality, database security, data migration ability, etc.
10. A/B Testing
A/B Testing on eCommerce applications can help derive the social media workflow of it. Without social media integration onto the mobile eCommerce application, the success rate will be hampered. Therefore, the testers make sure to check whether social media is integrated with the application workflow or not.
Conclusion
These are the ten best eCommerce application testing practices that the professional testers or eCommerce app testing companies adapt to help improve the performance of the application and deliver well organised eCommerce app testing services. These tests are determined to find probable loopholes in the application and get it fixed in a short time-span.
If you're looking for software testing services then you're in luck! Avail a free consult today - 
 Get your application free from bugs and errors.  Contact us by filling out this form and we will reach out to you right away! 
Don't Miss-Out Subscribe!
Sign Up Here To Get the latest Software Testing Tips, Techniques, and Updates Directly to Your Inbox For Free of Cost.