Don't Miss-Out Subscribe!
Sign Up Here To Get the latest Software Testing Tips, Techniques, and Updates Directly to Your Inbox For Free of Cost.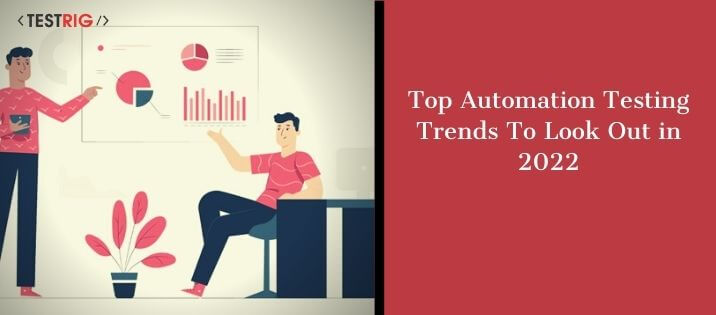 The Latest Test Automation Trends To Consider in 2022
With the rapid advancements in technology, future of automation testing are also evolving. The rise in the number of applications used by different organisations has increased the demand for software testing. The emergence of new test automation techniques helps enhance the quality of software testing and ensures the delivery of flawless applications for enhanced user experience. Today we highlights the some latest technology in automation testing that are expected to boost in 2022. Let's explore latest trends in test automation.
Highlights: What are the Current Trends in Test Automation?
Autonomous Test Automation
Here are brief details about the new technology in automation testing that you need to explore.
Hyper Automation Testing
Simply put, hyper-automation refers to active automation. When automation is performed using Robotic Process Automation (RPA), ML, AI, and Natural Language Processing (NLP), it is referred to as hyper-automation. The use of this technique has become a significant trend in recent years. Several industries are actively implementing hyper-automation in their different processes to minimize manual efforts and save more in terms of time and money in the long run. With hyper-automation, your organization can easily create your digital twin for enhanced efficiency.
Smart Test Execution
Smart test execution is another new test automation trend in 2022. The smart test execution enables the developers to test the code through the channelization of an added compliance. It helps in automatically identifying the specific tests that need to be run for the particular check-in. This will help in eliminating the need for running all the tests and running fewer tests only. The use of smart tests will not only enable you to save time but also helps in saving a lot of costs involved as well as other valuable resources. Moreover, in case of test failures, you can easily identify the correlation between the check-in and the tests, thereby speeding up things.
Autonomous Test Automation
According to the experts, autonomous are going to be a big automation testing trends in 2020. The software industry will see test automation is performed autonomously. This means without any human intervention, the test cases for automation testing can be created as well as executed. In order to make this happen in real, technologies like ML and AI will be used.
Important Read: Top QA and Software Testing Trends 2022
Multi-Experience Testing
If we are talking about test automation trends 2022, Multi-experience testing is all set to become the future of software application development. In order to meet the various demands of different users as well as industries, the vendors of the development platforms are continuously expanding their value propositions. This leads to the introduction of multi-experience development platforms for developing augmented reality, chat, voice, and other relevant experiences. To ensure uncompromised quality and to automate the testing process, testers are likely to adopt the multi-experience testing approach with the use of trending automation testing tools.
IoT Test Automation
Internet of Things (IoT) has become a buzz word in the world of technology. IoT test automation is expected to become one of the biggest trends in 2020. IoT test automation will offer enhanced quality and bring about a number of innovations. Moreover, it will also help in increasing security as well as privacy.
DevTestOps
While DevOps has been trending for a long time, DevTestOps is the latest trend. DevOps helps organizations in deploying changes to systems efficiently and quickly. However, in order to ensure optimum quality of deployment, continuous testing is important. Here DevTestOps comes into being. DevTestOps helps in ensuring that deployment of the changes to the systems will be high in quality and require much less time. DevTestOps is expected to enhance the effectiveness of testing and speed up the testing process. The reduction in time will ultimately result in better customer satisfaction.
Taking a close look at the automation testing trends in the next five years and adopting them at the earliest will enable Automation Testing companies to enhance their testing process and ensure better revenues by delivering quality Automation Testing Services.
If you're looking for software testing services then you're in luck! Avail a free consult today - 
 Get your application free from bugs and errors.  Contact us by filling out this form and we will reach out to you right away! 
Don't Miss-Out Subscribe!
Sign Up Here To Get the latest Software Testing Tips, Techniques, and Updates Directly to Your Inbox For Free of Cost.