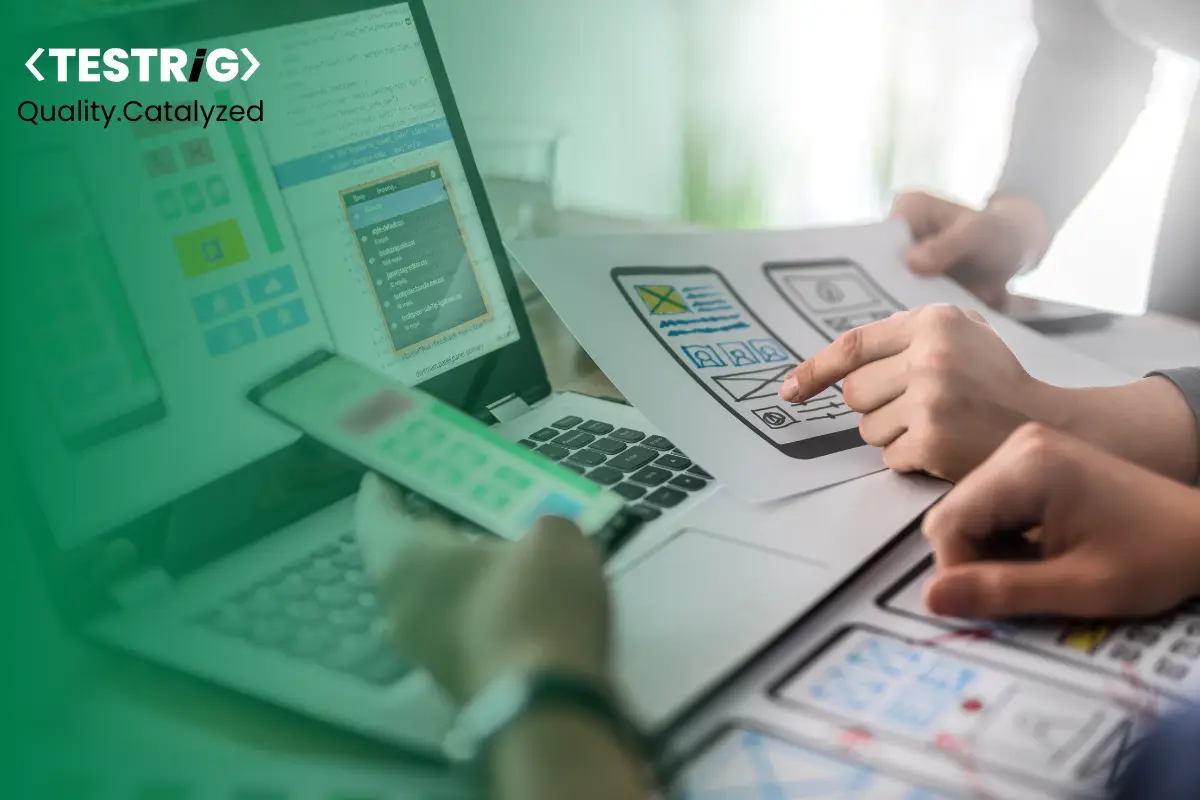 We are in an industrial phase that is brought in to create great user experiences for their consumers and hence increasing user acceptance. It does not matter whether these are the people who use products, services or apps, usability testing of website and usability testing for websites is of utmost importance. The prime focus of Usability Testing Services is to deliver and inform the design aspect from the end-user perspective.
There are several usability testing methods or user experience testing techniques that have been developed over the years for testing and validating product hypotheses. The methods see a wide range of usability-based studies as compared to those that have been recently developed.
Usability Testing Definition
"Usability testing means evaluating a product or a particular service by testing it out with its representative and niche users. In a typical usability test, participants try and complete particular tasks while observers watch and take relevant notes. The main goal is to identify usability related problems, along with collecting different aspects of relevant data to determine the level of satisfaction of the participant with the product."
Before proceeding forth with the trending usability testing methods, let us go through the core usability testing questions that one must opt for before going ahead and implementing usability testing methods.
What is it that drives people to your website?
What causes a hindrance to complete the task?
Are your CTAs effective enough?
Top 3 Usability Testing Methods
There are different usability testing companies are present who work on many different methods of usability testing services but here our user acceptance testing experts explores some points, have a look
1.Guerilla Testing
Guerilla testing is the easiest type of usability testing. Fundamentally, guerrilla testing implies going into an open spot.
Guerilla usability testing example – Let us consider a coffeehouse to get some information about your model. Test members are picked haphazardly. They are approached to play out a pacy usability test, frequently in return for a little blessing, (for example, a free espresso). It's minimal effort and moderately straightforward testing that empowers genuine client feedback
When to Utilize
Guerilla testing works best in the beginning periods of the development process. At the point when you have a substantial plan (wireframes or lo-fi models) and what to realize whether you're moving the correct way or not.
Guerilla testing is additionally useful for gathering closely-held convictions and enthusiastic impressions about thoughts and ideas.
It's constantly critical to comprehend that test members in Guerilla testing probably won't speak to your product's intended target audience. That is the reason Guerilla testing probably won't be directly for testing niche items that require having extraordinary aptitudes (i.e., programming for fund representatives).
What to Recall
The assignments you select for your testing session assume a basic job in whether discoveries will be valuable or not. Since it's difficult to test everything simultaneously, you have to organize every single imaginable situation of associations and select the most plausible one (center client stream). It's likewise critical to recall that you will make constrained time per test session. Ordinarily, individuals who take an interest in guerilla testing will give you the Unmoderated remote Usability testing
2.Unmoderated Remote Usability Testing
Unmoderated remote usability testing happens remotely without a mediator. It offers fast, vigorous, and cheap client testing results to be utilized for further examination. Test members are approached to finish undertakings in their own condition utilizing their own gadgets and without a mediator present, which prompts the item being utilized normally. The expense of unmoderated testing is lower; be that as it may, this sort of testing offers less definite testing results.
When to Utilize
Unmoderated remote usability testing works the best when you have to acquire a large sample to demonstrate basic discoveries from your underlying directed research. At the end of the day, you have a specific theory that you need to approve on a huge fragment of your clients. Unmoderated remote usability testing will assist you with testing a specific question or observe user behavior.
What to Recall
Remote usability testing doesn't dive deep into a test member's thinking. That is the reason it's not prescribed to utilize unmoderated remote testing as a first usability testing technique.
greatest 5-10 minutes of their time.
3.Lab Usability Testing
As the name recommends, lab usability testing will be trying to run in special conditions (labs) and directed by a moderator. A moderator is an expert who is hoping to get input from live clients. During a directed test, moderators are encouraging test members through assignments, responding to their inquiries, and answering to their feedback on a real-time basis.
When to Utilize
Lab usability testing plan works best when you have to have top to bottom data on how genuine clients associate with your item and what issues they face. It will assist you in researching the thinking behind client conduct. The way that this testing is directed empowers you to gather progressively subjective data. Simultaneously, lab testing can be costly to sort out and run since you have to verify a domain, procure test members, and a moderator. Another issue with this testing is the number of test members in a solitary round. As a rule, you have 5-10 members for every examination round in a controlled domain. So guarantee that all test members are intelligent of your real client base.
What to Recollect
Lab ease of use testing requires having a prepared moderator and a spot for running testing. Here are a couple of things to recall while picking a moderator:
A moderator ought to consistently be prepared to help test members comprehend the reason for testing (depict the objective) and keep the member on track in the event that they have any kind of disarray. In any case, it doesn't imply that a moderator should tell test members what they ought to do.
Moderator ought to be great at deciphering non-verbal communication. Recall that what test members state isn't generally equivalent to what they think. That is the reason a moderator ought to be great at watching and investigating non-verbal communication and outward appearances.
The testing meetings is a fundamental piece of this sort of testing. Moderators arrive at test members after the testing session and ask them a couple of significant inquiries.
With lab testing, there is constantly a hazard that the controlled condition will be unique in relation to the client's genuine condition. By setting the client in a controlled environment, there is constantly a danger of making non-sensible client conduct.
In Conclusion
With a plethora of usability testing methods, it is quite difficult to round up on one method that will be good for you. But don't let that be a hindrance as every user experience specialist faces the same. Therefore, it is extremely important to choose the method that will be best suited as per your testing needs and niche along with choosing the best usability testing tools. The method you choose should not only be good for your project but also be flexible enough to be reversed or forwarded as per your changing requirements. The central aim is to align your testing method to both your resources as well as your objectives.
As compare to the other usability testing companies We As a top user-experience testing company in the USA, provide a varied range of quality Usability testing solutions as per your needs and requirements. You can contact us to Hire testers or also schedule a demo and hear our review on what suits best for you.