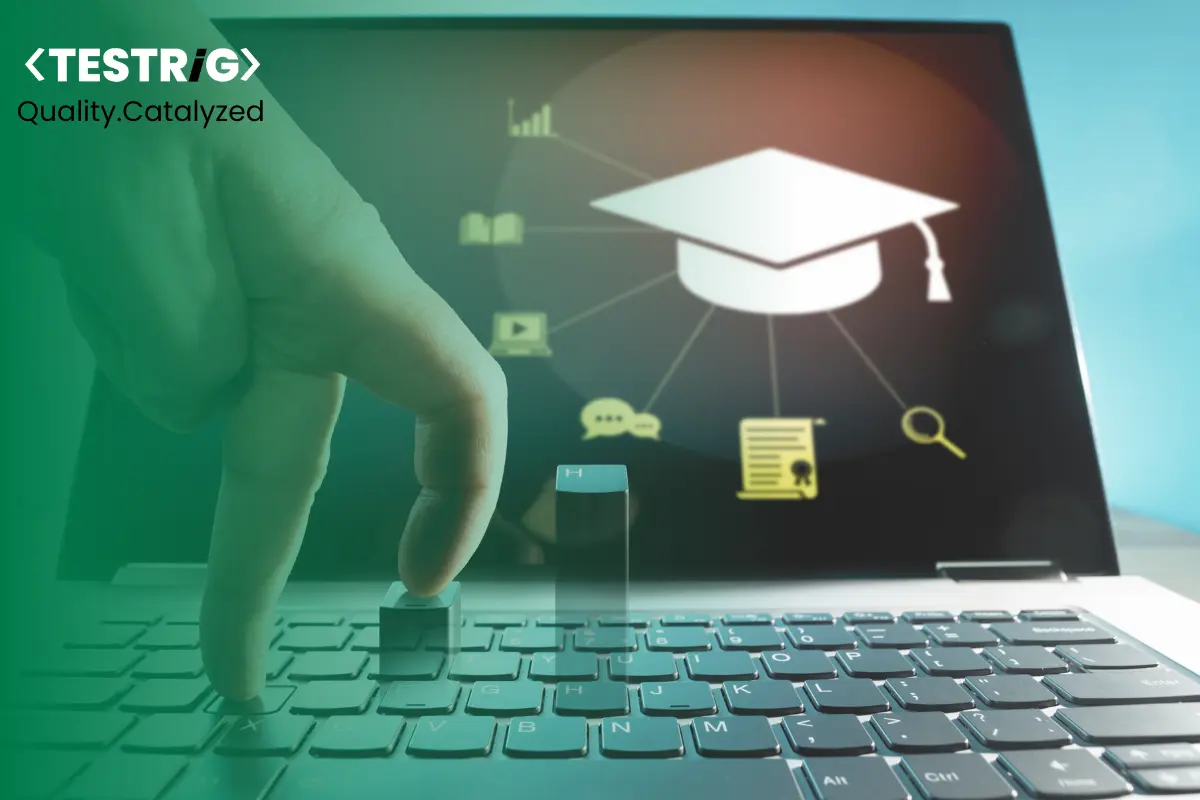 Ease of access, cost-effectiveness, and availability are a few of the benefits of e-learning applications. With the change in technology, e-learning applications have become important for businesses. However, it is the quality of the application that is one of the deciding factors in the adoption of the application.
In the blog, we will be discussing the business benefits of testing e-learning application that can help us understand the need to have quality e-learning applications.  
What is the Importance of the E-learning in Today's Education?
The traditional education sector is witnessing a rapid transformation, as being physically present in a classroom isn't the only learning option anymore. Users can now access e-learning applications from anywhere. Also, e-learning applications provide the facility to view recorded content a number of times at the user's convenience. Besides e-learning is also a cost-effective tool when compared to traditional education methods.
Statistics Related To Mobile E-learning Applications
The global mobile learning market size is expected to reach $70.8 billion by 2023, growing at a CAGR of 26.2% from 2016 to 2023. (Source: MarketsandMarkets)
In 2020, the most popular categories of mobile learning apps were education and language learning. (Source: Statista)
In 2021, there were over 2.9 billion mobile learning app downloads globally. (Source: Statista)
What is E-learning Testing?
e-learning  testing deals with Quality Assurance and Software testing of the e-learning course development. This is necessary as even the smallest of bugs can have big repercussions and can lead to business losses. e-learning applications are used on a larger scale in the industry at various places like communicating new training, policies, concepts, and ideas.
What are the Benefits of E-learning Application Testing?
Testing the e-learning applications can help you achieve a number of benefits for your business.
Following are some of the benefits of testing e-learning application that businesses can achieve after thoroughly testing the application.
1. Become compliant and accessible.
To achieve compliant standards, e-learning applications need to be portable across devices, browsers, and platforms and also adhere to common technical standards including WCAG and SCORM. The e-learning applications should comply with the (WCAG) Web Content Accessibility Guidelines to make the application content more accessible to people with disabilities.
Similarly, SCORM stands for Sharable Content Object Reference Model, it is a collection of standards and specifications that carries the description and packaging of e-learning courses. SCORM has information on how you should use the learning content in a course, and how it is structured.
2. Secure applications win users' trust and help in brand building.
Secure e-learning applications can help build users' trust. Security has become a primary requirement for applications. In the education industry, the application deals with the data security of a number of students. Similarly in other industries like automotive, manufacturing, pharmaceutical, and others the application deals with confidential information and so the application must be secure.
3. Functionally perfect application increases user base.
Any e-learning application needs to be functionally correct. For instance, consider the examination/ quiz module of students in an e-learning application. The quiz module should generate accurate results for students and so it is important that the modules used in the application are functionally correct. This can also increase the user base of the application.
4. High-performance application improves user experience.
e-learning applications are used by a large number of users and it is used a number of times, thus ensuring the application meets the required load, stress, and other performance parameters.
5. Quality product improves customer satisfaction
Increasing the quality of the application helps in increasing customer satisfaction. Applications need to have a great user interface design and navigation which attracts the user. Testing your applications and building the right quality application can improve the customer experience and can lead to higher customer satisfaction.
As per statista.com, the revenue of Online Learning Platforms is expected to reach US$57.42bn in 2023. This clearly shows the importance of assuring quality applications to users. In the above blog, we saw how businesses can benefit by building an effective and quality e-learning application.
Ensuring the quality of an e-learning application can be challenging. However, hiring a trusted QA partner like Testrig Technologies which offers iOS App Testing and android app testing services, can help you achieve the right quality for your application.
Using various Testing strategies QA experts at Testrig Technologies can help you accomplish your goal of building a perfect application.