Things to Inspect Before Outsourcing Software Testing Services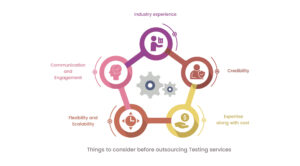 Developers understand that errors and defects is an integral part of software development process, coupled with the fact that developers cannot easily see or notice shortcomings or bugs introduced by them in the course of developing a software. Hence, it is important to outsource Quality assurance of software and software testing to third party software testing company.
However, before hiring or outsourcing a software testing and QA company, it is necessary to consider the following five key aspects: Industry experience; Credibility; Expertise along with cost; Flexibility & Scalability and Communication & Engagement model before chosen and canalizing the software testing company to test your software.
Industry Experience
The testing of software for defects or bugs require a very high technical skill and technical know-how. Hence, it is pertinent to ensure that the software-testing company have the necessary technical experience and also ensure that the outsource company posses the proficiency required for the project. In the same vein, it is important to carry out a background check on similar project successfully carried out by the company in time past and how the software perform in the software market.
Credibility
Ensure that the company to outsource your software QA and testing is a reputable and credible firm, with a long year of meritorious and quality service delivery in the industry. Also, it is important to find out the track record of their past projects and ensure that the concern third party outsourcing company is bring in a unique intellectual property and best practices that will ensure overall quality of the software.
Expertise along with cost
The greatest reason why companies or firms outsource some or part of their tasks or functions is to ensure cost reduction. However, low cost does not equate to quality service delivery or output most times. Hence, it is pertinent to consider the skill possessed along with the associated cost in order not to hire an amateur that will jeopardize the success and credibility of the software, invariably to increase cost.
Flexibility and Scalability
Outsourcing software testing and QA requires a great level of flexibility on the part of the outsource software QA and testing company. Hence, it is necessary to enquire from the shortlisted firm if they would be able to meet the flexible and dynamic needs (resources) required to deliver a quality job. For example, some software QA and testing gigs require more or less resources especially in term of human expertise to handle the project needs as required. Hence, developers should extract commitment from the outsource QA and testing company that they will be flexible enough to scale up or down their resources as per the requirements of the project.
Communication and Engagement
Most times, outsource firms or companies are usually outside the country where the developer reside or work, this situation usually create a feeling of isolation and exclusion. Hence, it is important for both parties to come into an agreement on the best means to communicate with each other leveraging on the plethora of communication platforms available suck as Skype, Slack etc. With frequent and friendly communication, issues and disagreements can be easily sorted out.
Conclusively, software quality assurance and testing is a task that require very technical and deep knowledge of software developing. Hence, it is important to ensure the outsource companies engaged for the task posses the requires expertise and resources to deliver a top-quality job.