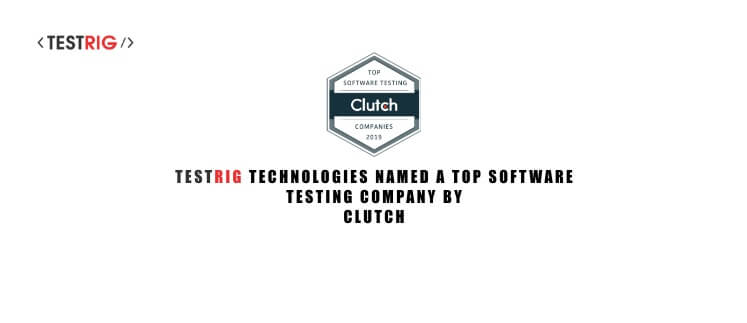 Testrig Technologies: Named a Top Software Testing Company
Our almost five years of business have allowed us to stand out against other Software Testing agencies. How so? Simply put, we have the experience and the global reach to get our clients to where they need to be. Without spending a fortune for a service their business fundamentally requires, our clients are allowed to succeed and flourish as a result of our work. We are excited to announce that Clutch recently named us a top Software Testing company in Texas! Their recent report highlights top performers in software application testing, and we are so excited to have made the cut!
"This award is a big recognition for us as in Software Testing industry and proves the quality services we are providing to our customers." – CEO, Testrig Technologies
Testrig Technologies is a leading Software Application Testing company in India, USA, and the UK. At Testrig Technologies, we have a skilled and experienced team with positive environment So, our team is capable to accept any challenges that come our way. Our dedication and efforts to-words every project has gone noticed! Our clients are allowed to succeed and flourish as a result of our work. We are glad to declare that clutch recently announce Testrig Technologies as a one of the Top Software Testing Company on the clutch platform in 2019!
Clutch is a B2B ratings and reviews platform dedicated to connecting businesses to the best-fit service providers for their project. Clutch's team of analysts conduct extensive research on company qualities such as market presence, work quality, and client experience. Each Clutch profile contains verified reviews from prior clients (conducted by Clutch analysts in an interview or online form format) and a satisfaction rating out of 5 stars. Our profile has 4 such reviews and a perfect satisfaction rating thus far! View a quote from one of our client reviews below:
"They committed to the work and completed the project within the given deadlines." -Digital Marketing Head, Swift Shoot
Clutch has two sister sites, The Manifest and Visual Objects, a platform for businesses to showcase their professional creative portfolios to buyers. The former publishes how-to and state of tech news for the purposes of helping businesses grow and meet their challenges. The Manifest listed us along with our most Notable Project on their site!
We are thrilled to receive this recognition and look forward to the future of both our agency and our growing presence on Clutch. Feel free to Drop a Line, look through our Blog, or leave us a review. We might be the service provider you were looking for all along!
Discuss Your Software Needs With Us
Want to get in touch with Us? Want to launch your application bug-free? Fill out the form and get in touch with our QA and Software Testing Experts. We will get back to you with the relevant quote soon…